Our new iPad app, MoodClock has just hit the App Store.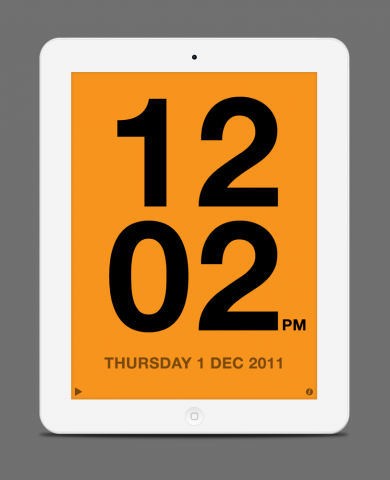 As you can probably guess from the name it's a combination clock and mood lamp. It doesn't do much but what it does do, it does beautifully (well so I'd like to think). You can choose your favourite background colour (any colour you can think of) or just let it fade from one to another and you can choose black or white text and then adjust the transparency of it with a swipe of your finger.
As you can see, you can achieve an almost infinite number of effects, even turning off the time completely to use the iPad as a mood lamp – it's surprisingly effective when turned against the wall in a darkened room – just like an expensive mood light in fact :)
The image above is a small part of a much larger promotional piece I did for the App Store (click on it to see the full version) and gives a good idea of the sort of effects you can achieve. It's a universal app so one copy will run on both your iPad and iPhone and it's available now.
The design of the app was done by Dave Hornsby, who we've collaborated with before, most recently with our ActionNotes app – and there's a BIG update coming on that any day now. Watch this space…